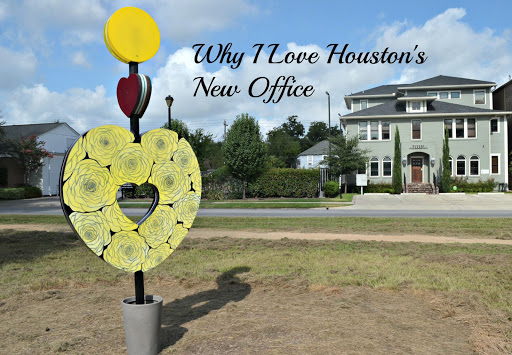 Welcome to my Why I Love Houston Series, where I share my favorite Houston experiences and excursions. My goal is to make my hometown of Houston more accessible to the ever-changing mix of folks adopting our amazing city as their home base and reminding natives of the hidden gems throughout H-town.
Why I love Houston….exciting public art exhibits like True South.
I'm passionate about our local art scene in Houston.??W?e're lucky to not only have access to world class museums, but also amazing public exhibits like True South– A Historic Trail of the Arts. This temporary installation along Heights Boulevard features eight sculptures by contemporary Texas artists. These pieces bring a smile to my face everyday as I make my neighborhood commute to the Why I Love Houston Properties' office on the Boulevard, where Kermit Eisenhut's Heart of the Heights sits? right out ?side of? our front door!
I highly recommend making a pilgrimage along the Heights Boulevard Trail to get up close and personal with these day-brightening artworks before the exhibition ends on December 15th. Plus these installations make fun family photo backdrops and selfies for Facebook and Instagram?! A few favorites are Sharon Kopriva's Marcella, a whimsical, bird-like figure whose wings are made of paintbrushes; Hans Molzberger's Retired Cowboy Clown, an over-sized rocking chair with a tiny cowboy clown perched atop; and Joe Barrington's Sock Monkey, a playful take on this iconic stuffed toy.
While in the neighborhood, make sure to stop by one of my favorite?s?, Revival Market, for breakfast or lunch, or grab a coffee and snack to go. Another great refreshment option along the trail is EQ coffee house. And if you're ready to make the Heights your new neighborhood?, ?be sure to set up a viewing of this charming bungalow or this lovely, newly renovated house, both just a short walk away from the trail.
Happy Trails,
Kathlyn