Welcome to my Why I Love Houston Series, where I share my favorite Houston experiences and excursions. My goal is to make my hometown of Houston more accessible to the ever-changing mix of folks adopting our amazing city as their home base and reminding natives of the hidden gems throughout H-town.
Why I Love Houston….Houston Holiday Festivities!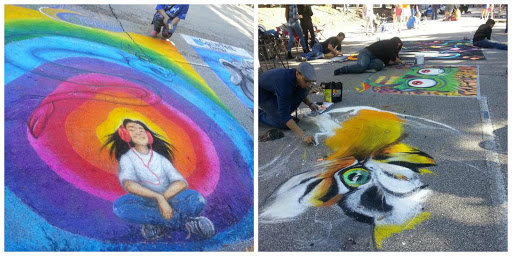 Via Colori 2014 
?
Among the many things I am thankful for this time year of year, I'm especially grateful for the time I get to spend with my family enjoying many of Houston's holiday festivities.

We'll be starting the family fun this weekend with Via Colori, the 10th annual street painting festival held ?downtown Saturday and Sunday (11/21 & 11/22). Over 200 artists participate in painting the streets surrounding Hermann Square at City Hall with their unique and temporary chalk creations. Plus it's all for a good cause? because ?the festival benefits The Center for Hearing and Speech, which helps children with hearing impairments. Even though it's free to attend the event, please consider ?mak?ing? a $10 donation and your kids can participate in Via Bambini ?where they create their own masterpiece to be viewed by the masses.

Frostival!, the opening celebration for ICE at Discovery Green, is Tuesday, November 24th. The many free activities include a snow zone, ice sculptures, live music and guest appearances by Houston Rockets' Corey Brewer and local roller-blading phenom, Juan Carlos aka The Montrose Rollerblader. You can also purchase tickets for your first go at ice skating this season! 

We hope to enjoy the artistic floats, high-flying balloons, and marching bands of the Thanksgiving Day Parade? when it hits the streets of? downtown Houston. Jean Luc, my son, loves all the hustle and bustle of a parade!

And our family favorite, Zoo Lights at the Houston Zoo, returns on ?Friday, November 20th? and runs through January 9, 2016?. This magical winterscape? made up of 15+ miles of tree lightings and festive scenes is always a hit ?with ?our household ?and great for visiting relatives and house guests?.
Happy Thanksgiving!
Kathlyn