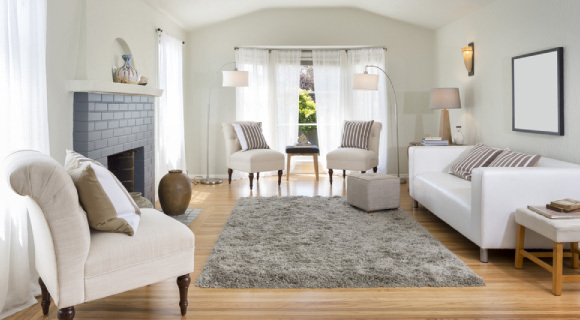 Looking for a quick way to refresh your home? Before you go changing layouts or knocking down walls, try giving your interior a fresh coat of paint. This fairly simple task can dramatically alter the look and feel of your home.
Changing interior paint is an easy do-it-yourself project that you can tackle in a weekend or two. Before you get the rollers out and start painting, here are some basics about the interior paint finishes available:
Flat or Matte — Hide imperfections with flat paints, which absorb light and make the colors seem darker. The downside? This type of paint is the least stain resistant, so reserve it for low-traffic areas and ceilings.
Eggshell — Not as dull as flat paint but less shiny than semi-gloss, this low-sheen option works well in living rooms and bedrooms. Be aware that the shine can accentuate any wall imperfections, so it's best on smooth, well-prepared surfaces.
Satin — This highly durable finish is often used on windows, doors and trim. Its soft sheen sets it apart from walls painted in eggshell or flat finishes, but be careful cleaning. Satin paint has less protection that the shinier options.
Semi-Gloss — Designed to stand up to stains, semi-gloss paints are the easiest to clean, making them ideal choices for kitchens and children's rooms. This sheen also stands up to moisture, so consider this selection when repainting a bathroom.
Low VOC —
 The name says it all. This type of paint contains fewer volatile organic compounds (VOCs), which release toxic gases. Opt for low VOC paint if you want to go green in your home (and deal with fewer paint fumes).

Kathlyn's Tip —
 For color inspiration, take a look at my listing for this beautiful home in the heart of the Heights at
211 22nd Street
.  When selling your home, you can't go wrong with choosing from  a palette of white, grays, and blues for neutral background that's always pleasing to the eye.