Welcome to my Why I Love Houston Series, where I share my favorite Houston experiences and excursions. My goal is to make my hometown of Houston more accessible to the ever-changing mix of folks adopting our amazing city as their home base and reminding natives of the hidden gems throughout H-town.
Why I Love Houston…Feasting on Airline Drive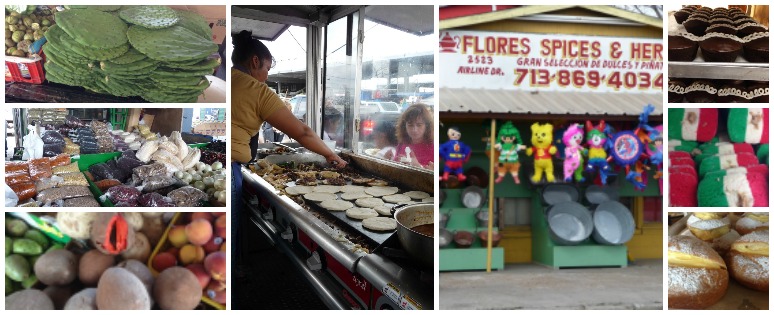 Airline Drive, on the edge of the Heights, is one of my favorite food destinations in the city. From the food market scene to homemade pasta dishes, it's a regular stop for our family.
For fixing a fiesta at home, we love to stroll the stalls at 
Canino's Produce Market
 to pick up all the essentials. Open 7 days a week, from 6 am – 8 pm, the market's generous hours makes it easy to plan a trip here. The covered area of the market features fresh fruit and vegetables with a mixture of local and global origins. As you move into the open stall area of the market, rows of of cactus paddles (nopales), tamale husks, and spices, especially the famous Mexican mole seasonings provide colorful eye candy. Many vendors offer samples, as well as having ready-made items for sale, like spicy fruit cocktails in a cup seasoned with chile powder for a refreshing shopping snack. If you are craving something savory, stop by Taqueria Tacambaro, located outside the open market area, for crunchy, cheesy gorditas. 
My husband, Nick, likes to stop across the street at
Flores' Spice and Trading Co.
 to shop their thorough selection of spices and herbs to make his signature spice rubs. Jean-Luc loves the cheerful pinatas that greet you at the front door. Next door is 
El Bolillo Bakery
, where we like to select a variety of sweets for dessert. Bags of wedding cookies dusted in powdered sugar, trays upon trays stacked high with pan dulce (sweet bread), fruit-filled empanadas, freshly made Ding Dongs, and churros await the aluminum trays and tongs, which you use to make your haul.
Another frequent stop is family-friendly Bellissimo. This casual Italian eatery serves up everything from homemade pastas to pizzas to traditional entrees, like Ossobuco. We love to share an order of the eggplant parmesan and the red snapper. Both are to die for!
Nothing beats a classic diner breakfast or lunch and Triple A Restaurant is just that! This family owned and operated joint has been serving Southern style home-cooking to generations of Houstonians. Stepping inside is like a time-warp as little has changed since my first visit years ago. The service is always friendly and the food is fresh and made with love.
Bon Appetit!
Kathlyn