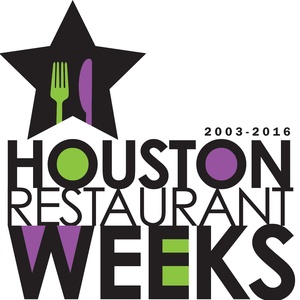 Welcome to my Why I Love Houston Series, where I share my favorite Houston experiences and excursions. My goal is to make my hometown of Houston more accessible to the ever-changing mix of folks adopting our amazing city as their home base and reminding natives of the hidden gems throughout H-town.
?
 Why I Love Houston…Houston Restaurant Weeks Season.
Nothing represents a people and their culture like food. Houston's cuisine – like the city itself – is diverse, innovative, and accessible. As much as I love to travel, there is truly no place like home for this fifth-generation Houstonian – and food plays no small part in that romance for me and the millions of others who are proud to call Houston home. There's always a new? ?place ?to try? and 
Houston Restaurant Weeks
 is the perfect opportunity for plotting? culinary adventures? ?while benefiting the Houston Food Bank. Here are some of my favorite picks from this year's list of participating restaurants.
I just enjoyed a celebratory dinner at Artisan's Restaurant in Midtown. They are offering a lunch and dinner menu full of French classics like Petite St. Jacques scallops, duck confit, and chocolate mousse! Midtown is also home to other special occasion foodie favorites, New Orleans classic, Brennan's, Holley's for outstanding seafood and service, and Damian's Cucina Italiana for traditional Italian that's been around for 30 years. I love how Houston Restaurant Weeks is an affordable way to enjoy fine dining and explore the latest restaurants while giving back to the community. 
For refined casual cuisine with a Southern flair, I love the flavors and ambiance of rooftop dining at Harold's 
on 19th Street – housed in the hallowed remains of the landmark upscale department store by the same name. Harold's recently converted the first floor into a taproom 
where you can meet up for specialty drinks and craft brews before or after dinner. Other must-reserve spots in the Heights on the HRW list are Brit-inspired Hunky Dory, spicy Thai dishes at Foreign Correspondents and modern American at Glass Wall. 
After a full day of art-gazing in the Museum District, make a dinner reservation for a table 
at the Monarch Bistro i
n swanky Hotel ZaZa (formerly the historic Warwick Hotel) or plan for lunch or dinner at 
Lucille's
, ?named after the first black female business owner in Texas whose recipes are dished up proudly by her descendants for ?all the Southern comfort? food? one art-loving soul could desire. On the weekends, be sure to catch the live Blues brunch, oysters, and fresh fish Texas-style at 
Danton's Gulf Coast Seafood
. Houston Restaurant Weeks runs through September 5, 2016, so be sure to start making those reservations to dine out for a worthy cause.