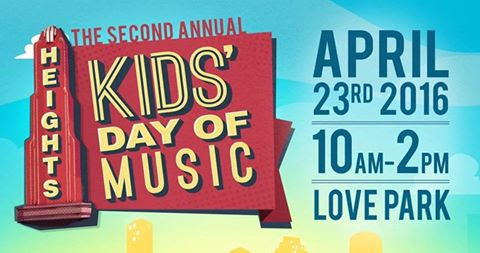 Please join me for the Second Annual Heights Kids' Day of Music featuring Houston musicians, arts and crafts, and local food vendors.
Saturday, April 23rd
10 am – 2 pm 
Love Park in the Heights – 1000 W. 12th St. 
The Heights Kids' Day of Music is dedicated to bringing the sounds of local musicians to our neighborhood in a feast for the senses. The main stage will have a variety of bands performing – from Afro-Cuban sounds to the soul/funk stylings of the legendary Kashmere Stage Band and plenty of kid-friendly rock'n'roll. There's an instrument "petting zoo" so the young ones can get a hands-on experience with the tools of the trade. I'm sponsoring the Creative Zone so be sure to visit our booth where we'll be crafting your very own instrument! 
See you on Saturday!
Kathlyn