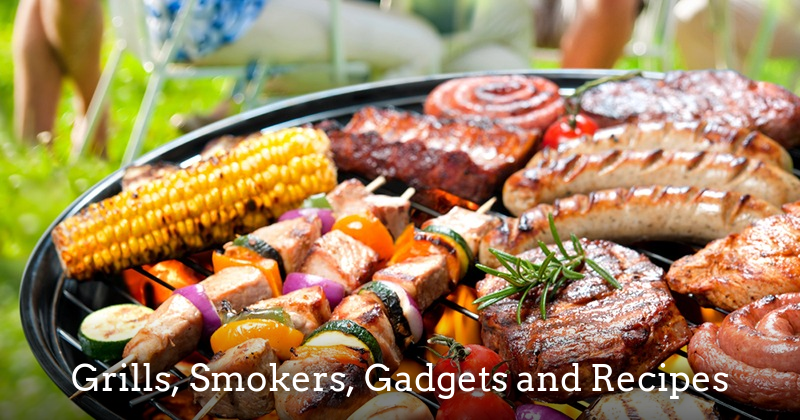 Choosing a Grill or Smoker
There are a variety of grilling options available, and each has its 
pros and cons
.
Charcoal grills take longer to heat up, but they also achieve hotter temperatures, making them perfect for searing meat. And purists love charcoal for the flavor it produces.
Gas grills are a favorite among recreational grillers, largely because they're easy to use and heat up quickly. They do cost more than charcoal grills up front, but they're less expensive to operate over the long term.
Electric grills are portable and compact, providing a practical, affordable alternative for people living in apartments that restrict outdoor grilling. But critics of electric grills argue that they won't give you that smoky barbecue flavor.
Smokers slow cook meat to achieve the distinct flavor connoisseurs love, but the process does take more time.
Gathering Gadgets for Grilling
Before you start cooking, make sure you have these grilling essentials:
Tongs
Skewers
Basting brush
Rubs and marinades
Heat-resistant grilling gloves
Wire basket for vegetables and seafood
Grill brush for cleaning
Finding the Best Recipes  
Not sure what to cook? Check out The New York Times' 
Summer Barbecue Essentials
 for an ample list of grilling recipes organized by category, including sauces, marinades and rubs. 
Or leave it to the BBQ pros of Houston and sample the city's best barbecue without the work!  
Houston is a BBQ mecca with the famous worth-the-wait brisket at
Killen's
in Pearland, the pork and ribs at
Gatln's BBQ
in Garden Oaks, and newcomer
Drew's
in Montrose. 
Kathlyn's Rec:
 Make your way to Kirby Drive and have a bowl of the to-die-for venison chili at the
Armadillo Palace
 and then head next door to 
Goode Company BBQ
, a local institution for smoked meats and homemade jalapeno cheese bread. 
Happy feasting!
Kathlyn